Do you need to shop for the latest music gear? Well, Leeds has that covered for you. The city offers some of the best stores with top-quality products.
The market for musical instruments has been booming over the past few years. There are always some new stores coming up, promising top market gear.
From turntables to hi-fi systems, audio production devices to software, drums to percussion, they are all there. And for this reason, you need to know who you are buying from.
Leeds are various shops for a wide range of products. But not every store might be right for you.
Some people may not find it so, but choosing the right store is crucial. The last thing you want is to go for someone who has no clear clue of what they are offering.
In that case, this article is for you.
LEEDS DRUM SHOP
I have been buying musical instruments for many years. And that is why I know the right shop when I see one.
Here is what I think about two of the best drum shops in the city.
• Leeds Drum Centre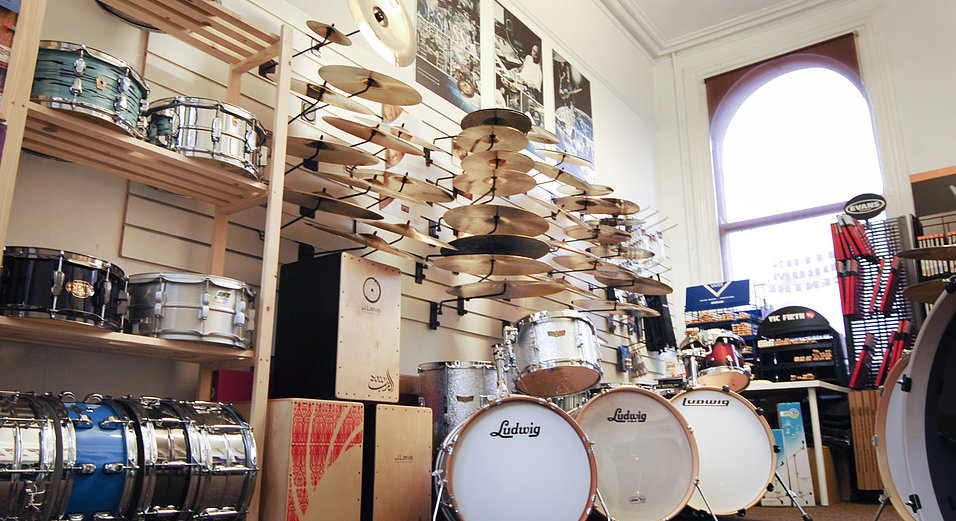 Every drummer has a particular taste in drums and percussion instruments they trust. And there could only be a few stores they trust to such gear.
Leeds Drum Centre is such a store. Any drummer will agree that this drum shop is perfect for all your drum shopping needs.
The shop run drummers for drummers. Hence, if you have any questions or need advice on drumming and related gear, this is the shop you want to visit.
Their specialty is in Liberty, Ludwig, and Sakae kits. They also stock cymbals like Bosphorus, Istanbul Agop, Dream, and Stagg, among others.
And if you need drumheads and beats, the store has the best too. This is a store you will want to come back to.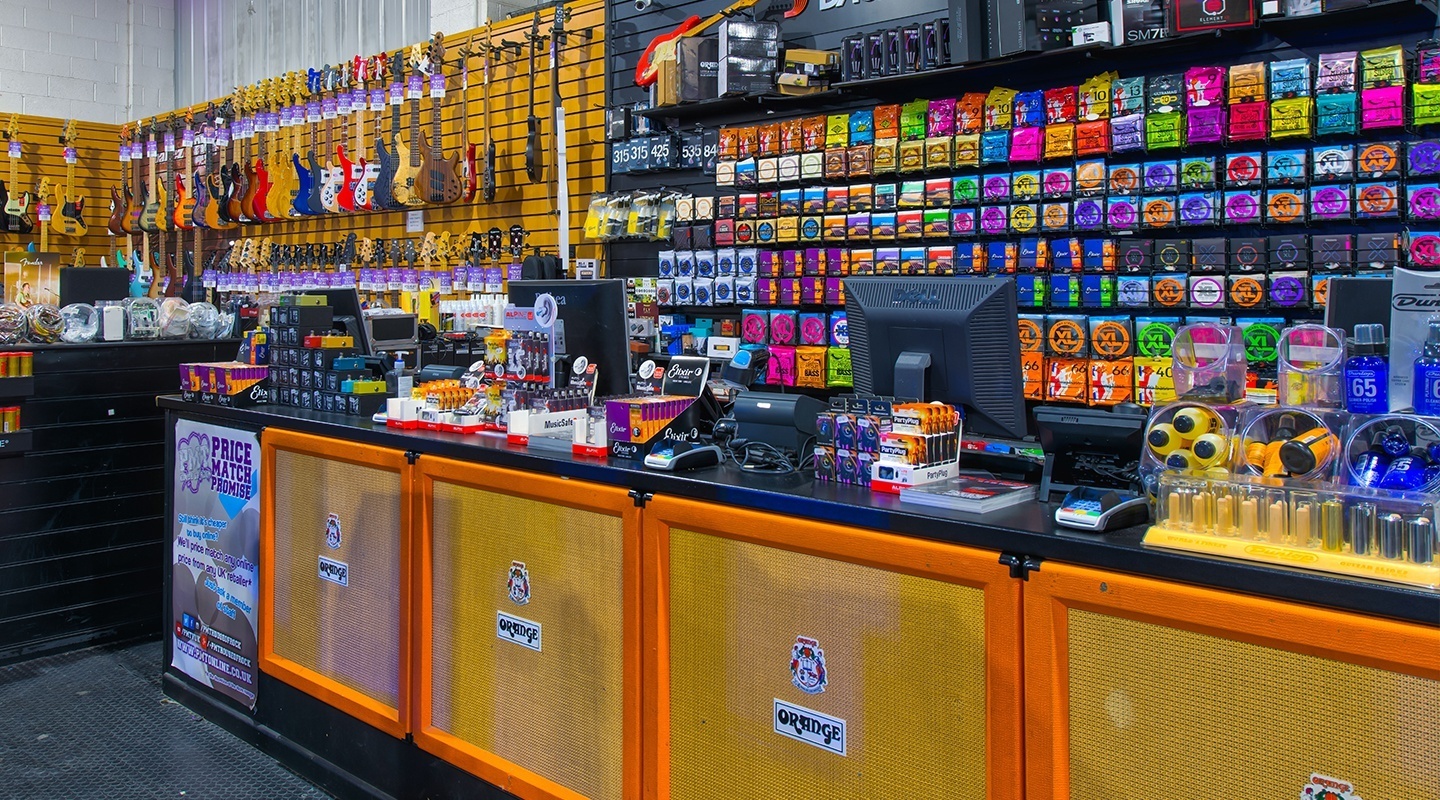 It's hard to talk about UK drum shops without mentioning PMT. This music store offers a wide variety of products in different fields, all aimed at ensuring you have a great time.
The Leeds Drum Shop is a prestigious "House of Drums" found in the Leeds branch. It is filled with all sorts, almost covering the whole ground floor.
That means there is no brand you will want that is not here. Acoustic kits from Tama, Mapex, Ludwig, DW, and Gretsch, among others, are set in different sizes. You will also get e-drum sets from top manufacturers like Roland, Yamaha, and Alesis.
PMT is the most trusted source in the region.
The Best Music Shops in Leeds
If you are looking for the best Leeds music shop, you need to know your gear. There are many drum shops in this city that offer excellent products.
Here the list of top ones: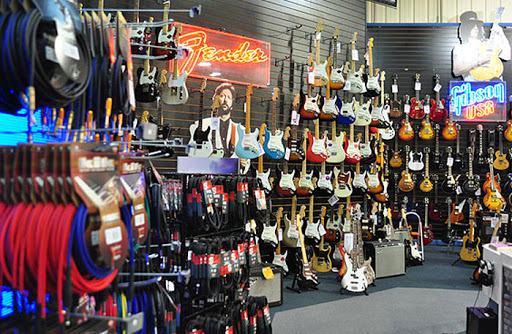 PMT is not a new name in the whole of the UK. There Leeds music shop has everything a modern musician would ever want.
Well, this 9000 square foot superstore is the home of every musical instrument in the region. It is set into four main areas, each with a specific type of instrument.
You are exposed to thousands of electric and acoustic guitars on almost every wall. Half of the ground floor is dedicated to kids and adult drum kits.
PMT is the shop you will never want to miss.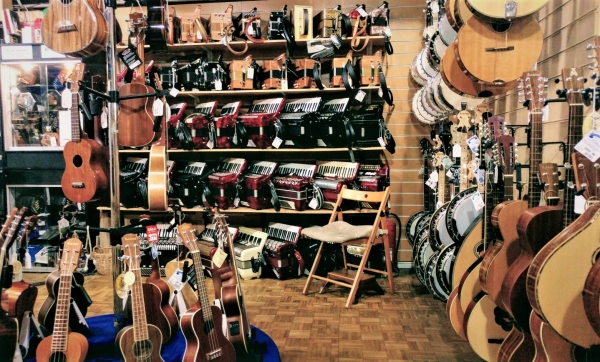 Of all the music shops in Leeds, Hobgoblin could be the only one with everything you need. The store has established itself as the real solution for modern drummers, stocking only the best quality.
What makes this store trustworthy is its many years of experience. They opened the first music shop over 40 years ago and have been growing strong ever since.
No matter what you are looking for, the store will deliver. Their unique collection of folk and acoustic instruments has attracted thousands of buyers from different parts of the world.
You are exposed to guitars, mandolins, banjos, and squeezeboxes, among other products. They have invested heavily in the world of percussion instruments, making sure every drummer gets what they need.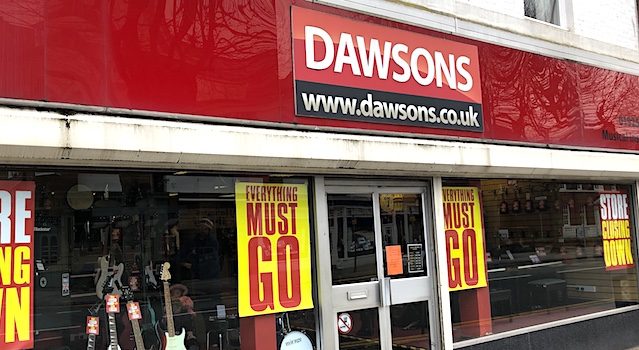 With so many music stores in Leeds, finding the right shop may be a bit overwhelming. But with names like Dawsons Music, you have got every angle covered.
The store is a one-stop shop for all musical gear. The Leeds shop is wide. One can easily get lost in it if one is not careful.
Whatever brand you are looking for in drums or other instruments, the store has it.
• Pro Audio Centre
Are you looking for good gear to make your music sound great? This is the store you should come to. It has every instrument for DJs and other music enthusiasts.
They also have a small section with guitars and e-drum machines.
LEEDS MUSIC PRODUCTION CENTRE
Music production is an interesting field. Thousands of artists are looking to get their music to the market, and they need a good production expert.
Leeds is one of the biggest cities in the UK that has embraced this industry. The support given to musicians and producers is beyond what you can get from anywhere else in the world.
Here is the top place you can learn this skill from.
• Leeds College of Music
Music production is more than just an art. It defines good music as received by the listener. That means it takes an expert to know which sounds are ripe for the market.
Leeds College of Music has been thriving in this subject for many years. It is set at the Centre of the Leeds Music environment, amidst various music venues.
LCoM thrives on the scene this city has set up for the music industry. It is defined by a highly experienced music faculty that handles production and popular music students. The team works together to find the best voices and create unique features that build professional musicians.
• The University of Leeds – School of Music
The school of music at the University of Leeds is one of the largest music departments in the United Kingdom. It has more than 25 staff members dedicated to impacting excellent music knowledge to its students.
Besides, the school works with other organizations in the city and country to deliver professional results. This is one music production center you would not want to miss out on.
Conclusion
There are many other music stores in Leeds, both physical and online. But the ones reviewed above are the major ones.